Pyrgi is the largest medieval village of Chios located at a 25-kilometre-distance from Chios town. 
It belongs to the region of the Mastichochoria. This area is well known for the production of mastic, the hardened resin of the mastic tree which is only harvested on Chios island.
Pyrgi in general is a very impressive and beautiful place with an interesting background.
The builings facades are the first things that attract people's attention. The unique decorative designs of the houses are also known as ξυστα (xysta).
Xysta is a technique of hand-engraving, where plastering-sand is applied to the walls.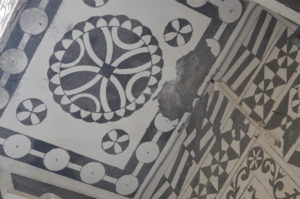 Afterwards it gets a white painting and the motifs are carefully scratched out.
This technique makes every house in the village and Pyrgi in general very unique and absolutely impressive. Tourists can as well buy small pieces with geometrical motifs on it, to take them as a small reminder.
Whilst walking through the streets you will also notice the narrow roads and small bridges that connect the houses, which are tied closely together.
Windows and doors faced only the walls inside of the village. On the outside walls there was only one door, through which the inhabitants could enter.
The narrow streets are all connected to the central tower square with a height of 18 meters.
All of these building measures show, that Pyrgi was build on a fixed plan and for one main purpose: protection against frequent attacks by pirates and Turks in the past.
Another characteristic of Pyrgi are the innumerable churches. Remarkable churches, such as the church of "Agios Apostoles". The interior of this church is covered with wall paintings made by Antonios Domestichos, which are absolutely worth a visit.
Other churches are Koimisis Theotokou and Taxiarchis.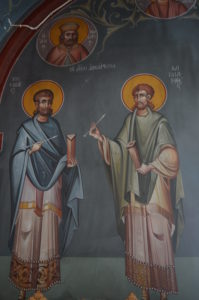 In my opinion Pyrgi is a place, that everyone who is interested in history or architecture or who just loves traveling to beautiful places needs to visit at least once. Pyrgi is a real unique village.
– by Julia S. –
Sources:
https://www.chios.gr/en/pyrgi-en
http://www.chiosonline.gr/pyrgi.asp
http://www.chios.com/en/villages/south-villages/pyrgi